NEWS
Twilight Baby!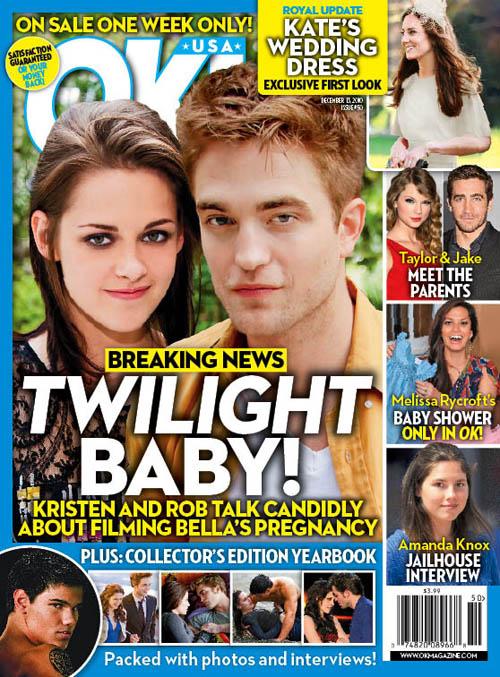 Twilight: Kristen Stewart and Robert Pattinson talk candidly about filming Bella's pregnancy. Will the movie's depiction remain close to the book? Plus, a collector's edition yearbook as OK! looks back at how much has changed since the Twilight phenomenon began! And which Twilight hotties are still single?
The Royals: A Royal Update! As Kate Middleton prepares for her April wedding to Prince William, an exclusive first look at her dream wedding dress. Plus, the world's top fashion designers give the inside scoop on Kate's style and how they would envision her dress.
Article continues below advertisement
Real Life: Accused murderer Amanda Knox's life behind bars as OK! talks to her former cellmate. What is life like for Amanda behind bars? And who will play Foxy Knoxy in the upcoming movie?
Melissa Rycroft: Only in OK!: The Bachelor star's baby shower as she awaits the birth of her little girl with husband Tye Strickland. Find out which former Bachelor stars were a part of the festivities.
The Big Debate: Should Prince Charles step aside for his son, William, to become king? Was Miley Cyrus' 18th birthday party too provocative? Is MTV to blame for Amber Portwood losing her child? The experts weigh in.
Plus:
New couple Taylor Swift and Jake Gyllenhaal meet the parents over the Thanksgiving holiday; Jennifer Aniston shows off her killer bod in Mexico with Chelsea Handler and pals; Getting glam for the holidays with Pretty Little Liars' Shay Mitchell; From relaxing massages to futuristic facials, discover the hottest getaways for stars like Cameron Diaz!; Rumors that newly single Eva Longoria will be adopting; Kelly Preston and John Travolta welcome a new baby into the world; Lasting impressions with Twilight star Kellan Lutz from his dark side to rolling the dice.