NEWS
'Twilight' Cast Not Over the Moon on 3-D Films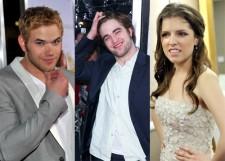 Anna Kendrick is still undecided whether she'd like to see Twilight Saga: Breaking Dawn in 3-D, but co-stars Robert Pattinson and Kellan Lutz share her concerns. When it comes to 3-D films in general, these three are still scratching their heads — especially Rob!
OK! GALLERY: TWILIGHT GETS AVATAR-IZED!
"I'm still undecided about 3-D, personally," Anna told MTV News about whether she'd want to film Breaking Dawn in 3-D. "But obviously they don't consult me personally on whether or not Breaking Dawn is going to be in 3-D."
Article continues below advertisement
OK! VIDEO: KELLAN LUTZ MARKS HIS SPOT IN SEXY CALVIN KLEIN COMMERCIAL
But, Anna isn't alone in her thinking. Kellan's not sure some scenes are meant to be seen in 3-D. (WARNING: Breaking Dawn spoiler ahead!)
"3-D kind of hurts my eyes anyways," he said. "Avatar was amazing in 3-D and in IMAX, but I don't think I wanna see a little baby half-vampire in 3-D. There's just some scenes I just wouldn't want to see in 3-D."
OK! NEWS: ZAC EFRON THINKS R-PATTZ IS "ABSOLUTELY AMAZING"
Rob can't wrap his head around the thrill of 3-D.
"The 3-D thing confuses me," Rob explained. "I haven't seen Avatar or any of these 3-D movie things yet. The idea of it... I remember 3-D movies from when I was a kid, and I can just picture it giving me a headache."