NEWS
Twilight Gets a Lucky Break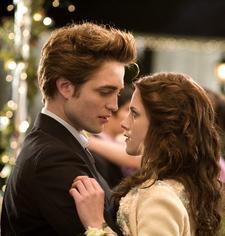 Someone's got a huge dose of wonderful karma coming her way after doing the right thing in a potentially lucrative situation: Casey Ray, a beauty salon owner in St. Louis, found two scripts in the trash outside a hotel. One of those scripts just happened to be for New Moon, the highly anticipated sequel to Twilight.
The Associated Press reports that Ray was waiting for her fiance to finish work when she saw the script in a bin, along with a script for Memoirs, unrelated to Twilight. Also staying at the hotel were actors involved with new George Clooney movie, Up in the Air. Anna Kendrick is in both that film and New Moon. Her rep however, says she wouldn't have left the scripts laying around.
Article continues below advertisement
And while Ray says she was tempted to leak the scripts to a tabloid, she finally decided to return them to Summit, her lawyer Al Watkins says.
"My client didn't really want to get paid," he said, but she is interested in having the scripts as keepsakes.
With her attorney's help she returned them, and they in turn have invited her to the premieres for both films, and will certify the scripts as authentic after the movies are released.
"Summit doesn't comment on any of the deals it does," Summit spokesman Paul Pflug said, adding,"We thank Ms. Ray for doing the right thing."