NEWS
'Twilight Saga' Bosses Plan to Make Breaking Dawn into Two Movies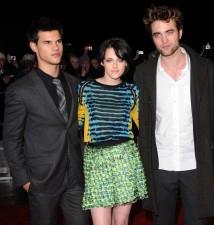 The makers of the Twilight movies may be celebrating making $481 million worldwide with New Moon, the second installment in the hit franchise, but they're already in talks about filming the fourth book, "Breaking Dawn", as two movies.
The final volume of the British boy wizard, "Harry Potter and the Deathly Hallows" was turned into two flicks (released in 2010 and 2011) and Summit Entertainment wants to do same thing with Stephenie Meyer's finale.
Article continues below advertisement
Sources tell Variety that the movies' writer Melissa Rosenberg is on board to pen the entire series, but she's waiting on the go-ahead to write two scripts rather than just one for Breaking Dawn.
The matter of the director is also up in the air, but producers want to bring New Moon's Chris Weitz back.
Summit bosses also need approval from the author to go the two-movie route, while the main stars Robert Pattinson, Kristen Stewart and Taylor Lautner, can expect substantial raises.
The third movie Eclipse, which is released June 20, 2010 was helmed by 30 Day of Night director David Slade.