NEWS
'The Twilight Saga: Breaking Dawn — Part 2' Trailer Released, Featuring Vampire Bella!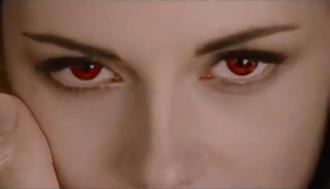 The moment all us Twi-hards have been waiting for finally arrived this weekend when we got a sneak peek of The Twilight Saga's final installment, Breaking Dawn — Part 2, during previews for The Hunger Games.
OK! GALLERY: KRISTEN STEWART & ROBERT PATTINSON JET OUT OFF PARIS TOGETHER
Not only do we get a glimpse of vampire Bella (Kristen Stewart) in the very short "full-length" trailer, we get to watch our favorite human-turned-supernatural being hunt for her first prey.
Article continues below advertisement
And we see Jacob's (Taylor Lautner) reaction to his new vampire BFF, as well as Edward's (Robert Pattinson) first look at his eternal love.
"So beautiful," Edward tells Bella, as he caresses her face. "We're the same temperature now." SWOON!
OK! VIDEO: THE TWILIGHT SAGA: BREAKING DAWN — PART 2 EXTREME TEASER TRAILER RELEASED
Watch the teaser trailer below and let us know what you think! Are you excited to see Breaking Dawn — Part 2?