NEWS
'Twilight Saga: New Moon' DVD Released Tonight!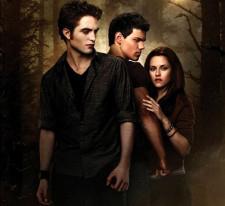 Happy Friday, Twi-Hards! But more importantly, happy Twilight Saga: New Moon DVD release day! Although, it comes with a bit of bad news.
THE PHILMGUY'S DVD REVIEW: NEW MOON; THE PRINCESS AND THE FROG
Twilight Saga: New Moon will be released on DVD and Blu-ray just after midnight tonight, 12:01 to be exact!
We can finally watch Robert Pattinson, Kristen Stewart and shirtless Taylor Lautner as long as we want!
Article continues below advertisement
OK! WIN IT! NEW MOON AND TWILIGHT IN FORKS ON DVD
There's only some slightly bad New Moon news.
Not to be a downer, but it turns out that the deleted scenes director Chris Weitz said would be on the DVD is not true.
"I'm basically a big, fat liar," he told NBC's PopcornBiz. "I put it out there that there are deleted scenes, but I just realized there aren't. It was an honest mistake."
"I don't want to get Twilight fans banging down my door demanding deleted scenes."
Instead, Summit Entertainment will release the deleted scenes in the next DVD release.
"Shall we be honest, it's marketing," he admitted. But, he did say there is an awesome deleted scene to look forward to eventually seeing featuring the now former Victoria, Rachelle Lefevre.
"She's on her way to Forks, just generally being a bad ass and killing the passenger of a very fast car," he says. "I'll feel good when people see that."
Article continues below advertisement
Twilight Twitter is also sending out Tweets announcing where midnight release parties are being held across the country!
OK! NEWS: FORKS DOCUMENTARY HITS STORES SAME DAY AS NEW MOON RELEASE
Don't forget that while you're buying your copy of New Moon you can also pick up the Twilight in Forks: The Saga of the Real Town being released the same day.
It's going to be a good weekend!