NEWS
Twilight's Taylor Lautner to Present at Golden Globes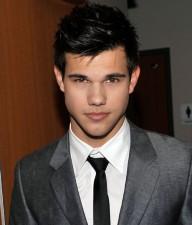 Listen up Twi-hards. The 67th Annual Golden Globe Awards just heated up with new additions to the star-studded list of presenters. And who better to join the pack? Everyone's favorite werewolf, Taylor Lautner will present along with A-listers Amy Poehler and Josh Brolin at the prestigious award show, the Associated Press reports.
Other presenters include former Globe winners Jennifer Aniston, Mickey Rourke and Julia Roberts. The ceremony, which kicks off the 2010 awards season, will be hosted by funnyman Ricky Gervais and airs live from the Beverly Hilton on Jan. 17 on NBC.
Article continues below advertisement
Jen, Mickey and Julia join Robert De Niro and Leonardo DiCaprio who will present the Cecil B. DeMille Award to director Martin Scorsese.
The highly anticipated award show will be seen in more than 160 countries worldwide and combines honors awarded to both television and motion picture achievements.
Be sure to check out OK!'s live blog of the event!