NEWS
'Two and a Half Men' Clip: See Ashton Kutcher's Debut With Jon Cryer & Charlie's Ashes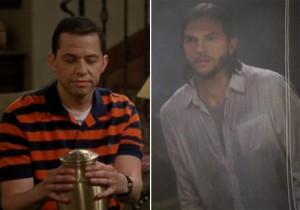 After months of anticipation, Ashton Kutcher made his debut on Season 9 of Two and a Half Men Monday night, replacing Charlie Sheen after his infamous dismissal from the show earlier this year. And for a brief scene, Charlie's former character, Charlie Harper and Ashton's new character Walden Schmidt (sorta) shared the screen.
The episode opened up with Charlie's funeral, and his exes filled the pews heckling the deceased jingle writer for his infamous ways with woman.
Article continues below advertisement
With Charlie gone there is no one to fund his Malibu beach pad (he has taken out three mortgages on the property), so his mom (Holland Taylor) is forced to sell it to grieving Alan Harper's (Jon Cryer) dismay.
But luckily Walden — a heart broken billionaire — saves the day.
So how did Ashton make his grand entrance into the show? Alan sits in the living room and talks to Charlie's ashes (his last appearance on the show), as he prepares to spread them out along the beach, so "oily women in bikinis" will rest on them, trying to do what his brother would have wanted.
He removes the top of the urn, and suddenly Walden appears outside the back door scaring Alan so much, that he drops the urn and the Ashes fly everywhere in a cloud of dust.
Alan shrieks and lets Walden in and now the show is forever changed.
And it seems the relationship between Alan and Walden will have likenesses and differences of that between Alan and Charlie.
Catch the clip below. Were you impressed by Ashton or do you miss Charlie? Sound off in the comments.