NEWS
Two Idol Davids and a Syesha!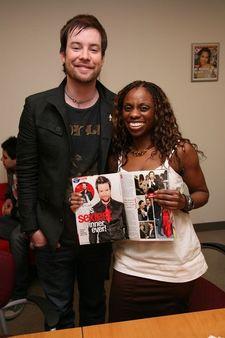 David Cook is a major hottie.
The main reason he's totally earned that status is because he would never classify himself that way—even when virtually every girl in the OK! office (and most of the guys!) lined up to snap a pic with the 25-year-old Idol winner when he stopped by yesterday.
"I'm just a nerd who plays music who got lucky on a TV show," he said. (Yeah, one that makes us want to break out our dictionaries, stat!)
Article continues below advertisement
OK!'s Oliver Coleman and I got a chance to chat it up with the newly crowned Idol, who kept up his spirits even though he was fighting off a cold. "I've gotten a little bit of sleep," he shared.
Idol runner-up David Archuleta also put in an appearance (causing virtually every gal in the office to want to give him a big-sister hug!). "I learned so much from David C., just as a person and as a musician as well," Archuleta revealed.
Just as David-mania ended, third-place Idol finalist Syesha Mercado sashayed in, her hair looking fiercer than ever! "David is remarkable; he really takes the time to connect with his fans," she said of Idol's winner. "I'm really happy for him."
Read on for our convo with David C. And pick up the latest issue of OK! for exclusive pics of the sexiest Idol winner ever!
Your entire family was at the finale. How great was it to have all that support?
Article continues below advertisement
My brothers are my bookends. I don't know if I would have been able to do this without either one of them. I'm happy to have my family be there for that, so I think from here on out, it's just a matter of trying to stop and embrace this for a minute. I've got a great family to help me do that.
How is your brother Adam doing?
He's doing great.
How did you feel about your brother's illness being in the public eye?
My brother's illness is his own, and I didn't want to make him deal with all of this on top of all of that. That was really my motivation going in, to keep it a private issue. I love him to death, and obviously I am behind him.
It was just announced that your album will be out this fall. Have you been in any talks on what it will be like?
I'm going to be involved in the writing process, but at the end of the day I just want a record with as many strong songs as possible. However that happens, I'm open to it.
Article continues below advertisement
What's the theme of the music you write?
Lyrically, I've always just written from a place of trying to take negative energy and turning it into a positive source. A lot of my songs revolve around "that girl." I really don't see any reason to reinvent the wheel now, just kind of keep on doing what I'm doing.
There is a certain girl you've been spotted out with TV Guide Channel host and Idol alum Kimberly Caldwell. Are you officially off the market now?
Kim and I went out on a date and had a good time. Past that, there's really not too much to say. If schedules warrant, we may hang out again.
Are you getting started on your album right away?
Yeah, I'm really excited I get to work with Raine Maida from Our Lady Peace because I'm a huge fan of that band. To be able to work with Raine is huge for me.
How did that come about?
He actually was really cool and reached out to me after I sang his song "Innocent", and we've managed to kind of correspond a couple of times with email, so it seems like there is a mutual respect, which is cool.
Are you going to re-release your indie album, Analog Heart, or use any of the songs from there on your new record?
I've actually submitted some of those songs to be used on this record. We're going to see where the vibe goes with the new stuff and see if they fit. As far as re-releasing, I don't think there are any talks right now. That record was great; I had a lot of fun making it, but I'd rather not dwell in the past. I think if the songs fit in with what I'm doing currently, great, but if not, that was just a moment in my life.