NEWS
Two Robert Pattinson Wax Figures in Production!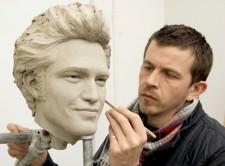 Even though he departed NYC today (sigh), Robert Pattinson will be immortalized in the Big Apple later this month. The beautiful bloodsucker is the latest celebrity to be displayed at famed wax museum Madame Tussauds, joining a large A-list pool of hunky wax figures including Brad Pitt, Leonard DiCaprio and Johnny Depp. When will Kristen Stewart and the rest of the Twilight cast join their hot co-star? Bet she's next!
Article continues below advertisement
And since one RPattz is definitely not enough, there will be two figures!
On March 25, the Rob replicas will make a home in both the New York and London branches of the museum, reports E! Online.
Artist Luke Fisher is hard at work creating the god like RPattz wax figure!
According to E! Online, the press release announcing Rob's wax figure states Tussaud's employees have been "studying hundreds of photos and pouring through hours of video to ensure that they capture RPattz's trademark sultry expression and inimitable style."
The artist seems to have the hair down pat, but as far as Rob's face we can't decide if the resemblance is on point.