NEWS
Tyler Perry Offers Rihanna His Support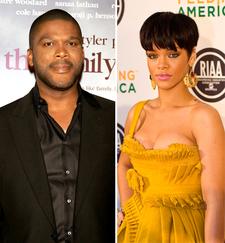 Tyler Perry and singer Monica are both offering to console Rihanna and Chris Brown as they deal with the impact of the Feb. 8 attack that left her bruised and bloodied and him posting $50,000 bail.
"I'd love to talk to both of them and give my advice on either side of it, being a child who is a product of that kind of abuse," Tyler, who saw them at Clive Davis' pre-Grammy party just before the incident, tells OK! at his Madea Goes to Jail premiere held Wednesday in NYC.
Article continues below advertisement
What advice would he give them?
"As they walk through this thing, leave everybody else out and figure out what it is," the one-man entertainment machine tells OK!.
Meanwhile, Monica says she understands the challenges of dealing with the rage that can accompany heated arguments.
"I've been in a very long relationship where we love each other dearly, but things do happen, and you have to focus the attention on each other or yourself no matter what decision you make," the mom of two tells OK! "My advice to them is think before you speak, think before you act. Bottom line."
She adds, "I definitely would love to speak with Rihanna. I'm a woman who has been through a whole lot. You can look at my history and see that. I would love to speak with her at any time."
Tyler urges restraint in placing blame.
He cautions, "They're children. I mean, they're babies. He's 19, she's 20. Don't be so quick to rush to judgment when you don't know the whole situation. Being in this business, I've learned that everything that seems one way may not be that way."
Rihanna turns 21 Friday.
By Valerie Nome