NEWS
Tyra Banks Still Gets Speeding Tickets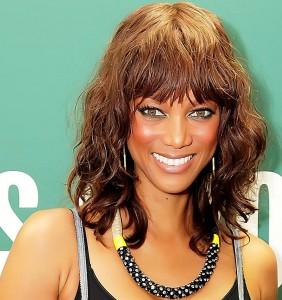 Just because Gisele Bundchen was let off recently when she was clocked driving 15 miles above the speed limit doesn't mean her fellow Victoria's Secret Angel Tyra Banks has the same supermodel free pass.
"I don't necessarily think it's supermodel, but it could be fame or just being a woman," the America's Next Top Model star tells me Wednesday in the green room before her Modelland book event at Barnes and Noble Union Square in NYC. "I've gotten tickets laughs, and they continue to write the ticket and say 'thank you, Miss Banks, I really adore your show. Make sure you pay that fine, and if you don't want that on your record, why don't you go to traffic school?' I've definitely gotten tickets before."
Article continues below advertisement
For Tyra, 37, it's not all about looks, but also about smarts. The Harvard-educated stunner has made a place for herself in reality TV, regular TV and movies.
Now, her first teen fantasy novel, Modelland, is earning rave reviews.
"I feel so good, because you never know," she says. "I've been with Modelland for five years, working on it and polishing it, and having tearful episodes of feeling like I'm not going to meet my deadline. To have it finally be out and see people come to an event is very humbling, and I have to distance myself – take myself out of my body – to walk out there, or else I'll start crying."
Modelland's lead character is a combination of fantasy and reality.
"The protagonist of the book, her name is Tookie De La Crème, and she's 15. I started modeling when I was 15, and Tookie gets discovered when she's 15. She has one green eye and one brown eye. I have two green eyes laughs. Just to let you know, some of Tookie is me and some isn't. She has crazy hair, and a huge forehead. I have quite a large forehead and interesting hair when I don't have fake hair on! So we have a lot in common."
Article continues below advertisement
She continues, "Tookie's extremely insecure. She doubts herself. She has really awful parents, and she gets chosen to go to Modelland, which is this amazing school on the top of this mountain that trains models to be supermodels that have super powers. She doesn't know why she's there, and along with her, are three other misfit girls who don't fit the stereotype of what beauty is in the society that I've created. It's their journey and their trials and tribulations, their fears, their triumphs at this point."
By the time she turns 40, Tyra hopes to release a sequel to the book.
"Hopefully young girls are feeling so empowered by Tookie De La Crème, and they're walking around feeling like they are Tookie, and that they can appreciate their beauty that they see reflected in the mirror."
What's her overall message?
"To appreciate things that are not the stereotype. To look in the mirror and know that you might not look like some celebrity on a red carpet, but that there's a unique you, and there are so many things that are special about you."
Here are my pix with Tyra: