NEWS
Tyra Banks Worries About Her Looks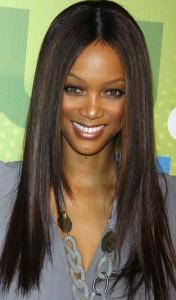 Being a Victoria's Secret model, having her own talk show and judging America's Next Top Model isn't enough for Tyra Banks.
Even though she's considered one of the world's most beautiful women, she's not fully confident in her appearance.
"I don't like the red carpet because as a model – background: I'm not a model anymore, I'm retired – but there's one photographer and you know where that photographer is and you can find whatever angle is right because of that photographer," Tyra, 36, says during the America's Next Top Model breakfast held Wednesday at NYC's Madea. "But there's a hundred of them, and it's like ugly shot, ugly shot, ugly shot, pretty. I hate it. It gives me anxiety."
Article continues below advertisement
Hmm, what photo tips can she share?
"So many people hold their head back, so you have to do the turtle. Stand straight and do the turtle, and then I'll raise it a little higher. Push it out. It's going to look crazy from the side, but from the front, you will look so fine. I call it smize."
Taking photos isn't always easy, and she shares the challenge she would find most difficult if she were a contestant on ANTM.
"The girls had to go through something with birds," she says. "They had to be posed and the birds were all over them. That is one of my worst fears. Birds, cats, fish, whales and dolphins. There was one girl, Nicole, and she was shrieks. I would not have even been able to do that. I would have gone home that week."
Still, she isn't all about primping and preening for the lenses. The jovial judge confesses she has an undercover wish to appear on a certain reality show.
Article continues below advertisement
"I would never do Dancing With The Stars, but you secretly go 'ooh, it looks like fun,'" she says. "But I would never do that."
She recalls years of looks that appeared to be inspired by the reality smash.
"I had a season where it was hot. Those dresses were sparkly and jangly and I had a big red-ass wig on and I was looking crazy. Seasons of seasons! But I care about fashion now. Before I was so busy doing the talk show, doing everything and I would look at a rack and go 'oh, OK, yeah.' Now I think about it."
(Hmm, should DWTS be offended?)
One ANTM guest from this season can expect to get a callback. Karolina Kurkova impressed her so much she made Tyra's coveted "list of talent for future projects."
"She's great," Tyra says. "She actually has a gift. I told her 'I had no idea.' I used to do the Victoria's Secret fashion shows with her, and I think she was an Angel when I was one. I knew she had a bubbly personality and that she sparked, but she's bubbly, she pops, she's passionate. There's some stuff that didn't make it into the edit. When the girl who got eliminated, she cries and leaves. Karolina was like Czech accent 'I need to see unity from you guys!' She jumps out and starts doing the runway. 'Come here, do it!' She wasn't doing it for the camera – there was no camera. She's full of energy, passion, she cares and she pops. I feel like there's a future for her in television or film."
Parting gifts include Unite smoothing shampoo, Unite smoothing conditioner, Unite smoothing repair treatment, Unite 7 seconds conditioner, Vitaminwater, Smartwater, Lozenges Leone lemon soap and Lil' Rae Cakes stuffed inside a handy America's Next Top Model bag.
Here's my pic with Tyra and Andre Leon Talley: