NEWS
Tyra's Alleged Stalker: We're Buddies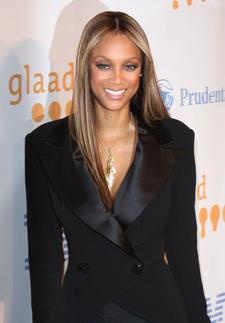 Note to stalkers: claiming you're BFFs with the person you're harassing probably won't work. A Georgia drifter accused of stalking and harassing Tyra Banks tried that line, a producer from her show testified yesterday.
The New York Daily News reports that Ray Noia checked on the man, Brady Green, after he got into the studio, and started asking to see his "very good friend."
"He wouldn't leave when they told him Tyra wasn't there," said Noia.
Article continues below advertisement
Green was on the "do not admit" list last March, and prosecutors say he threatened to kill an employee who wouldn't give him the studio's address. When he found his way there, he talked up anyone he could to get to Tyra.
"He'd explain, 'I'm trying to see her. She's a good friend of mine. Is there any way I can contact her?'" said Cynthia Simpson, a former staffer at The Tyra Banks Show. She added that he tried to get tickets as well. "He came in and asked when's the show starting, how long would it take, can he get tickets. He said he was a friend of Tyra's and that she knows he was coming to see her."
Another employee, Natasha Randolph, a secretary at the show, testified that Green sent Tyra flowers as well and called somewhere between six and 10 times. "
Green may finally get his face-to-face with Tyra, as she could testify in court tomorrow.