NEWS
Ugly Betty Cast Meet Ana's Ortiz's Baby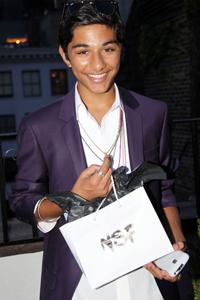 Ugly Betty star Mark Indelicato described the scene of very, very quiet pandemonium that broke out when co-star Ana Ortiz introduced the rest of the cast to her brand new daughter.
The young actor, who plays Ana's son on the show, said that America Ferrera, et al, were overjoyed to meet little Paloma for the first time — but had to curb their excitement so as not to wake her up.
"Ana brought Paloma to a table read of the first episode of the new season last week, so everyone was there," Mark told OK! at the launch of the new project from NSF Clothing to benefit The Humane Society of the US's Stop Puppy Mills campaign.
Article continues below advertisement
"She was just crowded by everyone. Everyone wanted to kiss Paloma and hug Ana.
"But everyone was treating Paloma like a little porcelain doll. They wanted to just squeeze her, but she was just so calm.
"She was sleeping and yawning and you, know you you just don't want to disturb the peace."
And it sounds like Ana is treating the baby, who was born on June 27, a little bit like a doll herself!
"Ana's so excited — obviously to be a mom — but also to dress the baby up," said Mark. "She's like, 'Oh my God, I've got so many cute outfits! What is she going to wear today?'.
"She was just going on and on about what outfits Paloma's going to wear tomorrow."