NEWS
Ultra-rare J.K. Rowling Book To Be Published!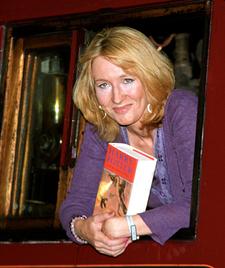 All hardcore Harry Potter fans know about J.K. Rowling's unpublished book, the Tales of Beedle The Bard.
But only a handful of people have ever read the stories that she calls her 'goodbye to the world of Harry Potter'.
The seven hand-written copies, written after the final Harry Potter adventure, are all under lock and key in the safety deposit boxes of the rich and the unbelivably lucky.
But now, Harry Heads around the world are finally going to be able to own it for themselves.
Article continues below advertisement
J.K. has agreed to let the collection of five stories, all of them 'spin-offs' from the Potter series, be published on December 4th this year, with all the money going to her Children's High Level Group charity.
According to the New York Times, Rowling says the new edition will include her illustrations, introduction and the stories themselves, plus commentaries that are seemingly by Albus Dumbledore, headmaster of the fictional Hogwarts School of Witchcraft and Wizardry.