NEWS
Uma Thurman and Fiancé Arpad Busson Split — But Who Ditched Whom?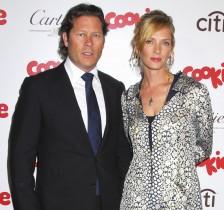 Uma Thurman and her French multi-millionaire fiance Arpad "Arki" Busson have broken off their year-long engagement.
"The engagement ended a while back — but they remain friends," a source told the UK's Daily Mail.
The couple started dating in the summer of 2007 and Arki proposed a year later.
While some sources say Kill Bill star Uma, 39, made the break, the New York Post's Cindy Adams reports that Arki actually called their relationship off after an argument went too far.
Article continues below advertisement
"She walked out in a huff. There was no serious intent to break up, but it made the other side think this engagement should maybe be broken off," Cindy writes.
"So she drew first blood, but it was only a nick. He killed it off, and the waltz has ended."
It is thought that Uma — who has two children with ex-husband Ethan Hawke — will return all Arki's belongings including her ring.
Sources say the financier is "beside himself" and there is speculation the romance may have fizzled out because of the vast distance between the pair: Arki lives in London, where his ex-partner Elle McPherson and their two children are based, while Uma lives in New York.
The actress said in a September interview, "I'm happily engaged but we haven't set a wedding up. I'm not in a rush to do anything. One day we'll do it, when we're ready.
"We can't live anywhere else because my children's father lives here. We'll figure it out."