NEWS
Uma Thurman & Ethan Hawke: The Exes Clash Again!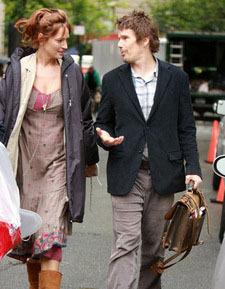 Ethan Hawke has made no secret of the bitter aftermath of his divorce from Uma Thurman. And it looks like the two are at it once again- the time debating the summer plans of their kids, Maya, 9, and Levon, 5.
On May 20, Ethan, 37, was spotted on the set of Uma's film, Motherhood, slamming the door to her trailer following an argument, after which he rushed home. The following day, Ethan told a pal that he and Uma "can't agree on anything."
Article continues below advertisement
The pal adds, "Ethan said, 'I asked if I could plan a family vacation, and it turned into a fight. I ask to hold a date open for my wedding to Ryan Shawhughes, their former nanny, and she says she isn't sure. Now I remember why we got divorced!"
Ethan, who calls being a dad "the greatest pleasure in my life," has said since his 2004 split, he has always tried to keep things civil between him and Uma, 38, for the sake of the kids.
But his pal says, "It's a constant battle over everything, and when there are kids involved, it makes it more difficult because it just wants what's best for them."