NEWS
Uma Thurman Laughs Off More Kids, But Enjoys Playground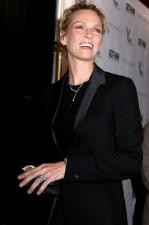 When Uma Thurman arrives at 6:47pm for the Motherhood special screening presented by Gotham Magazine and Coccinelle Wednesday at NYC's SVA Theater, flashbulbs pop in awe of the towering screen siren.
With a line-free forehead and hair just ever so escaping her headband, the grounded actress, 39, who is mom to Maya, 11, and Levon, 7 -- whose dad is ex-hubby Ethan Hawke -- stops by to chat about the ups and downs of motherhood and whether she'd like more kids.
Article continues below advertisement
What's the most challenging and rewarding thing about motherhood?
"The incredible opportunity to love and expand your heart, and to learn, and to discover yourself in many different ways," Uma, wearing black pants, tells me with a laugh.
As a Hollywood actress, how does she relate to her character?
"We are not in Hollywood, we are in New York," she cautions with a long pause.
Her mega-huge diamond engagement ring from fiancé Arpad Busson sparkles.
"In millions of ways," she says. "Wait … how do I relate to it … I've had a long day. Well, her circumstances are different, but her concerns are the same as mine. Trying to be true to yourself as an individual and as a woman and be a loving mother and grow and find yourself – that's the kind of thing we all deal with. I thought that was really universal."
Any more kids in her future? She laughs nervously, and is whisked into the theater hugging friends and bobbing her head back and forth in conversation.
Article continues below advertisement
What is Uma like as a mom?
Writer/director Katherine Dieckmann tells me, "She is a wonderful, dedicated and devoted mom. We live actually not faraway from her in the Village, so I would see her sometimes at the playgrounds since we have children about the same age. I've always observed her to be an extraordinarily loving and committed and present mother."
Really? We could find her at the playground?
"She takes her kids to the playground, of course," she says. "She tries to keep as normal of a life as one can keep in this world being Uma Thurman."
Post-screening, Uma, co-star Anthony Edwards and Katherine head to the afterparty at The Gates. Billy's Bakery provides cupcakes before Uma heads home to the fam well after midnight.
Motherhood is in theaters October 23.