NEWS
Uncle Frank Potenza, 'Jimmy Kimmel Live' Star, Dies at 77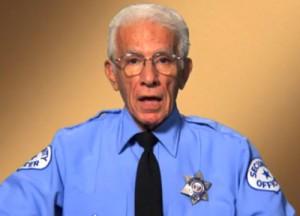 Late night TV personality Frank Potenza, famed for his sketch comedy as "Uncle Frank" on Jimmy Kimmel Live, died today at the age of 77. The cause of death has not been revealed, but ABC and Jimmy Kimmel have both released statements on Frank's passing.
"It is with great sadness that the staff and crew of 'Jimmy Kimmel Live!' mourn the loss of 'Uncle Frank' Potenza," ABC said in a statement."He was beloved by his co-workers and considered an uncle to all. His kindness and humor will be missed by everyone he touched."
Article continues below advertisement
Jimmy reached out to his fans on Twitter, thanking for all the support during this tough time.
"thank you for your kind words about a very kind man - my Uncle Frank - who passed away this morning" the late-night host Tweeted.
Frank was a security guard for the ABC late-night program, and made many appearances during his nine years on the show, making him a permanent fixture on set.
Some of his best known segments included "Guillermo's Hollywood Round-Up" and "Uncle Frank and Aunt Chippy's Adventures."
Before working on his nephew's show, Frank was an NYC police officer, and security guard at Caesar's Palace in Las Vegas.
Remember Uncle Frank in some funny clips from Jimmy Kimmel Live below.