NEWS
Underdogs Reign Supreme at Grammys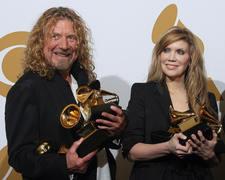 Perhaps the sheer number of collaborative performances at Sunday night's 51st Annual Grammy Awards should have been a tip-off that good things were in store for Robert Plant and Alison Krauss, as their unlikely pet project, Raising Sand, swept all five categories it was nominated for, including the biggie — Album of the Year.
"I'm bewildered," said Plant, who soared to fame in the late '60s as the bare-chested, tight-jeaned singer for rock gods Led Zeppelin, and who experienced an unexpected renaissance thanks to his decision to mess around in the studio with beloved bluegrass star Krauss. "In the old days, we would have called this selling out, but I think it's a good way to spend a Sunday."
Article continues below advertisement
Another of the night's biggest surprises was young British singer Adele winning for Best New Artist. The 20-year-old won out over The Jonas Brothers, whom many had predicted would walk away with the award due to their mammoth popularity.
Going into the evening, many had predicted that Coldplay would be bringing home the most trophies, but of the awards given away during the live broadcast, the band only won in the Best Rock Album category. And while they apologized to Sir Paul McCartney, who was in the audience, for stealing the look of The Beatles' Sergeant Pepper's costumes, no mentions were made — joking or not — of the band's alleged swiping of a Joe Satriani song.
Another thing not mentioned during the ceremony was the absence of both Chris Brown and Rihanna. As reported earlier, Chris was a little busy being charged with felony assault and posting $50,000 bail for an alleged incident with an unidentified female on Saturday night. Though the LAPD will not confirm Brown's girlfriend Rihanna is the woman involved, all current signs point to that being the case.