NEWS
An Unorthodox Class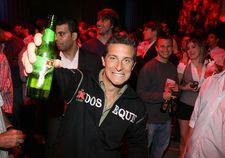 Bear Grylls has climbed Mount Everest, holds a Guiness world record for longest free fall and in "Man vs. Wild" has gone to survival lengths up to and including drinking his own urine for sustenance.
Dos Equis has taken Bear, 35, out of the wild for a bit and brought him on as a professor at their Dos Equis Most Interesting Academy, a unique 'school' that deems itself 'the world's premiere institution for the education and dissemination on the study of being interesting.' Sounds like a place anyone can benefit from a class.
Article continues below advertisement
Course study includes "The Art of the Bluff," "The Eclectic Arts," "Culinary Explorations" and Bears, "Survival in the Modern Era."
For information on how you can sign up for these classes of higher education, go to www.mostinterestingacademy.com. You can also skip right to Bear's lessons watching his five-webisode series at the same site. Or, if your attention span for lessons is too slim for even that, here are some cliff notes:
Bear's Top 10 Urban Survival Tips
1. Think smart
2. Be inventive
3. Act fast
4. Develop your other senses
5. Avoid conflict
6. Don't follow the masses!
7. Keep your mind, body and spirit fit
8. Go the extra mile
9. Make time to play and have fun!
10. Trust your instinct. It is the nose of the mind.
Cheers to being more interesting ;)