NEWS
The Unusuals: a double dose!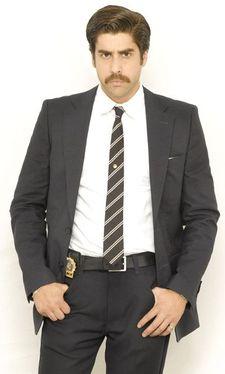 Most actors have to do a little research when they're playing a character suffering from a brain tumor.
Not The Unusuals' Adam Goldberg.
"Years ago, I was convinced I had a brain tumor, so that's helped. I even had an MRI," he told the TV Fanatic over a laid-back lunch in Seppi's at the hotel Le Parker Meridien New York.
The experience has come in handy.
Adam was able to offer technical assistance when his alter ego, Detective Eric Delahoy – who is dealing with the grim cerebral discovery – goes in for a scan in an upcoming episode.
Article continues below advertisement
"It's easy to relate to the notion of confronting your mortality. I've been confronting the demon of that since I was a kid," Adam shared.
The Entourage alum could also be speaking of the mortality of The Unusuals, one of ABC's midseason replacements. The network has yet to announce its future fate.
But things are looking up for the new cop dramedy. This week, the series will broadcast two new episodes, starting tonight.
The first will air after Dancing with the Stars' elimination round, followed by one on Wednesday in the series normal time slot.
While Adam's taking his hiatus to work on personal projects – he's dropping an album, Eros and Omissions, on June 23 – he has no problem returning to cast if the show does get picked up for another season.
"It's a laid back, unpretentious, funny group of people," he says.
"I don't have a negative thing to say about anybody, except maybe for Amber Tamblyn."
Wha??? Is there a little on set war brewing?
Not really.
"She promised to take one of my dogs home early to help me when she went back to Los Angeles and then reneged on that," Adam declared.
"I've been meaning to get her back publicly. I now I feel I have achieved it," he joked.
Happy we could oblige.
The Unusuals airs Tues., April 21 at 10 p.m., and Wed., April 22 at 10 p.m. on ABC.