NEWS
UPDATE: Cast to Determine if Speidi Stays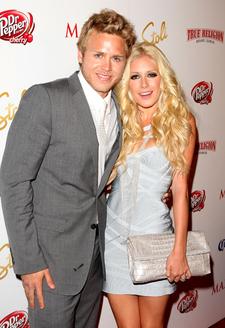 UPDATE: Even more news on Spencer Pratt and Heidi Montag's return to I'm a Celebrity... Get Me Out of Here!: NBC says their fellow contesants will get to decide if the twosome can stay on the show.
"Live tonight: Heidi Montag and Spencer Pratt return to the jungle after quitting Monday night – the remaining cast members determine their fate if they are welcome back in the competition," a statement explains.
Article continues below advertisement
*********
In yet another mystifying, crazy twist in the saga that is Spencer Pratt and Heidi Montag's life in front of the cameras, Spencer's parents are threatening to disown their reality TV-loving son... or so Spencer would have us believe.
Say what? An insider reveals exclusively to OK! that someone in the Speidi camp put calls out to legal counsel to spread the word that Spencer was about to be disowned after the couples' quitting antics on I'm a Celebrity... Get Me Out of Here!.
"They are so disgusted by Spencer's actions, especially now that he's bringing the charity angle into it, that they are about to publicly disown him and ask that he no longer use Pratt as his last name," an insider dishes to start the gossip train going. But OK! has learned that his parents are clueless, and that the legal shenanigans are all Spencer's doing.
Meanwhile, two people who were supposedly Heidi and Spencer arrived in L.A. last night covered in black sheets... but it was Stephanie Pratt and another pretender, we've learned. And while Spencer claims they were never going to quit, NBC was more than ready to get rid of Speidi. An insider tells OK! the peacock network bought their plane tickets in attempt to stop their antics.
Anyone else confused?
NBC's I'm a Celebrity... Get Me Out of Here! airs live Monday-Friday at 8 p.m.