NEWS
Usher Calls Cops on Future Ex-Wife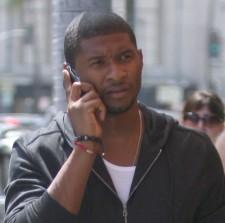 Usher Raymond called the cops recently on soon-to-be ex-wife Tameka Raymond, TMZ reports.
Usher accused his baby mama of going onto his property and scratching his car. Sounds like a Carrie Underwood song!
Law enforcement showed up to Usher's house only to find Tameka not there. Both Usher and Tameka were later interviewed, but there were no witnesses or evidence to validate Usher's claim.
Several days later, Usher called the cops again claiming Tameka was on his property and wouldn't leave. When the cops arrived, Tameka was not there. Shocker!
Article continues below advertisement
Tameka's rep made the following statement to TMZ: "This is just another attempt to disparage Tameka. It's simply an angry ploy that has no merit. Tameka's own truck was scratched but it's not clear how. The truck is registered in her name, it's not even Usher's car. Why would she vandalize her own vehicle?"
Divorce was filed by Usher in June and hopefully for both parties will be finalized soon.