NEWS
Usher's Wife Recovering After Complications From Surgery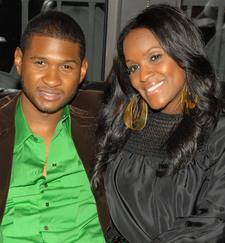 Usher's wife, Tameka Foster, is recovering in a Brazilian hospital after suffering serious complications during routine surgery, according to the singer's publicist.
However, despite the family's demand for privacy, the Brazilian media has uncovered some details about what went wrong.
Brazilian news website G1 is reporting that Foster, 38, was rushed to the Sirio-Libanes Hospital's intensive care unit last Friday after a medical emergency during a liposuction operation. Foster reportedly suffered cardiac and respiratory arrest as she was being anesthetized for the procedure. She was put into an induced coma for 24 hours and was now recovering, according to the website.
Article continues below advertisement
G1 reported that a US neuro-surgeon from the Cedars-Sinai Medical Center in Los Angeles, Gabriel Hunt, was handling her case. He left the Sao Paulo hospital late Monday without giving comment.
A spokesperson for Sirio-Libanes Hospital in Sao Paulo told AFP, "The family has demanded total privacy. The hospital is barred from giving any information."
Usher's spokeswoman, Simone Smalls, tells OK! that Tameka "is in stable condition. Her husband is with her at the hospital. The family requests privacy at this difficult time." Smalls confirmed that Foster had been admitted to the facility, which is considered the top hospital in Brazil, saying she was "suffered complications from routine surgery in Brazil." Usher, 30, has cancelled concerts in the U.S. and rushed to Brazil to be by his wife's side.