NEWS
Vacationing With Vanessa Carlton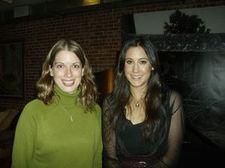 Vanessa Carlton has been around the world, but her favorite place is Cairo, Egypt.
"Egypt is such an intense and beautiful and chaotic city," the 27-year-old singer tells me. "I love it. I loved walking in Cairo by myself, which is kind of a risky thing, but I just felt really empowered. It was so beautiful."
Even in the recession, she recommends international travel.
"It's so important for everybody to travel the world because you have such a better perspective of where you're at when you're home."
Article continues below advertisement
And Vanessa's NYC home is totally swank. I've been there! It's awesome. She has a direct elevator up to her super-spacious apartment, which comes complete with wood floors, high ceilings, art collection and yapping dog Lord Victor. She'll likely swing by tonight because she's playing Fillmore New York at Irving Plaza in NYC. Woo-hoo!
Catch the Thousand Miles songbird on tour through August 10 when she wraps up at Milwaukee's Pabst Theater.