NEWS
Valentine Presents for Celebs!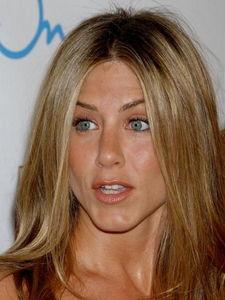 Valentine's Day is a mere 24 hours away. While I'm making room for all the flowers/chococate/gifts I'm gonna receive (feel free to send to away!), I'm not the only one deserving of a special gift for this special occasion. I caught up with shopping experts Anna Wallner and Kristina Matisic, hosts of Fine Living Network's The Shopping Bags, for some helpful hints on the perfect V-Day gifts for our favorite celebs.
Article continues below advertisement
Jennifer Aniston: One of our favorite Friends has been shooting in our neck of the woods, Vancouver. And if you're going to be alone on Valentine's Day in the (great white) North, you're going to need a big puffy jacket to keep you warm. Go for a down-filled jacket with a fill-power of at least 600. This should keep you toasty to about 10-15 degrees F.
Britney Spears: For Valentine's Day, we're giving Spears a pair of panty hose. We're not sure if anyone's told her but hers are ripped. For something silky and luxurious, go for Wolford. But remember, paying more will not get you a pair of hose that will last longer. They're just more likely to feel better.
Lindsay Lohan: This girl-about-town is certainly no stranger to the dating scene. To keep that social calendar straight, and at her fingertips, this Valentine's day we'd give Lindsay an iPhone. We suggest assigning every beau a different ring tone, just to minimize confusion!
Elle McPherson: We'd like to give Elle a beautiful beach cover-up! She's always strutting her stuff in her itsy bitsy bikinis. Give the rest of us a chance Elle, would ya?! (Okay, this is really a gift for all us less-than-perfect specimens who have to share the beach with her.) When shopping for a cover-up, avoid anything made of terry cloth, anything too dark in color and anything made of synthetics. You want to look hot, not sweaty!
Article continues below advertisement
Sean Penn: We were saddened to hear about Sean's separation. But we hope that one day, when he's ready, he'll give love another chance. In preparation, this Valentine's Day we're giving him the new book, Happy for No Reason by Marci Shimoff. Need we say more?
Marie Osmond: First off, congrats Marie for losing all that weight! This Valentine's day we say you deserve a chocolate! (Yes, just one. We don't want to undo all that hard work!) Choose dark chocolate with a cocoa content of at least 55 percent. It has less fat than milk chocolate and is full of anti-oxidants.
The Shopping Bags airs Saturdays and Sundays at 9:30 a.m. on Fine Living Network.