NEWS
Valentine's Day Advice for Tinseltown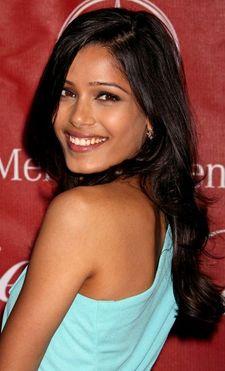 Valentine's Day is this upcoming Saturday, and there are plenty of single gals who will be looking for love.
Dating expert Andrea Syrtash, who hosts ON Dating for NBC Digital Studios, shared her dating tips for two of my fave Oscar hopefuls last week during the Martinis, Makeup and Men event at Bloomingdales in SoHo.
Here's her advice for Hollywood's newest beauty Freida Pinto, whose hit Slumdog Millionaire is nominated for best picture.
Article continues below advertisement
"Freida's obviously gorgeous and new on the scene, so she's in high-demand as a single starlet. All of the attention she's getting could be both amazing, intoxicating, and also overwhelming," Andrea says. "It's hard for a popular girl like Freida to gauge a person's real interest and assess if there's staying power.
"Freida has two great choices this Valentine's Day: She can enjoy all the attention and interest and date multiple men and have a ball, or she can re-connect with an old flame or friend who has intrigued her through the years—someone who fell for her before the rest of us did."
And Andrea's advice for best actress Oscar nominee Anne Hathaway.
"Anne is hot, sassy and sophisticated and has no problem attracting men," Andrea laughs. "She comes across as fun and upbeat, two qualities many men cite as important when looking for a girlfriend or partner.
"However, after dating someone who betrayed her trust, it's important for Anne to spend time getting to know someone well before committing to him. Like all women, Anne should read a man's actions more than his words.
"This Valentine's Day, Anne should revel in her past year's success and toast with one of her many suitors. She shouldn't commit to any of them, though, until they've proven they are trustworthy and loyal."
True that! See if Freida and Anne find love – and a date – in time for the 81st Annual Academy Awards, airing Sunday, Feb. 22 at 8 p.m. on ABC.