NEWS
Valentine's Day Date Ideas!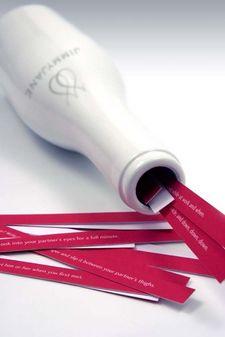 Valentine's Day requires that you step it up a notch in the date department. If you want to show your honey that you truly care, follow our tempting tips:
STAY: Make V-Day into a romantic getaway! W Hotel's "Feel the Wuv" package, offers couples a weekend of hot, "suite" lovin'. The hotel offers a special V-Day weekend package that includes in-room chocolates, a bottle of bubbly, delicious body lotions and a speicla late check out time. The hotel more than encourages sexy time with its Sex in the Sheets package – which provides guests with a generous helping of ice cream, hot fudge, whipped cream and strawberries—as well as disposable sheets!
Article continues below advertisement
EAT: Treat your lover to a sumptuous snack of chocolates with a Kathryn Hall Box of Chocolates gift set. Hall's chocolate set includes signature Cabernet Sauvignon chocolate sauce, decadent fudge and addictive peanut brittle. And it's accompanied by a bottle of 2003 Kathryn Hall Cabernet Sauvignon.
DRINK: Tipple these sexy sips to add some spice to your night!
Lotus Flirtini
1 1/2 oz Lotus Vodka
1/2 oz Cointreau
1/2 oz Cranberry Juice
Top off with Champagne (Moet et Chandon Rose preferred)
Garnish with a Strawberry
Can be served in Champagne Flute or Martini Glass
Karma Sutra
1 oz Lotus Vodka
1/2 oz Peach Schnapps
1/2 oz Cranberry Juice
1/2 oz Pineapple Juice
Coat Rim in Powdered Sugar
Served in Martini Glass
More of a bubbly fan? Why not try a designer drink? Couture designers Viktor & Rolf, in collaboration with Piper Heidsieck champagne created a tasty limited edition champagne. At $225 a bottle, it's a bit on the pricey side – but isn't your sweetheart worth it? Not a drinker? Martinelli's makes delicious non-alcoholic sparkling cider in a variety of fruit flavors.
PLAY: Still single? Why not invite some friends over for a game of spin the bottle? If you're in L.A., head to Whiskey Blue for their special Spin the Bottle festivities. The folks at Jimmy Jane have designed a "spin-the-bottle" bottle especially for Whiskey Blue, to help get the party started.