NEWS
'Vampire Diaries' Recap: Damon Tries to Save Stefan's "Humanity" & Alaric Gets a Major Shock!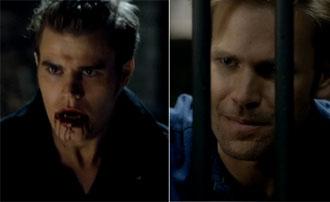 The month-long hiatus was worth the wait after watching last night's brand-new episode of The Vampire Diaries. As if things couldn't get any more shady in Mystic Falls, the town's serial killer is revealed, and it's sooooo not who you thought it was. (Actually, it's pretty damn devastating).
OK! NEWS: VAMPIRE DIARIES RECAP: ELENA IS HELD CAPTIVE BY THE ORIGINALS AND MEREDITH SHOOTS SPOLIER!
The episode opens with a flashback to 1912, when Mystic Falls had another murderer killing off the town's founders. And then we find out that Meredith (Torrey DeVitto) framed Alaric (Matt Davis) and got him thrown in jail for being the number one suspect in the killings. Poor, poor Ric!
Article continues below advertisement
When Damon (Ian Somerhalder) and Elena (Nina Dobrev) find out the devastating news, they decide to go about proving Alaric's innocence in their own ways. Elena teams up with Matt (Zach Roerig) and breaks into Meredith's house to sneak through her stuff. They find out some clues about the mysterious doctor in town before she catches them and reports them to Sheriff Liz Forbes (Marguerite MacIntyre). Liz obviously lets them go, but warns them to stay out of her investigation, reassuring them that Ric will be released from jail later that evening.
Elena and Matt head back to her house and get into a deep, and awkward conversation about her feelings for Damon and Stefan (Paul Wesley). Elena tells Matt that Stefan was always a comfort to her, but now, her feelings for Damon have taken over. "Damon sort of snuck up on me," she confessed. "He got under my skin, and no matter what I do, I can't shake him."
"Once you fall in love with someone, I don't know if you can ever shake them," Matt replied, obviously referring to his pining for Elena. (Sigh). Then he gifts her with a Gilbert journal he stole from Meredith's place. Clever human!
Article continues below advertisement
OK! NEWS: VAMPIRE DIARIES PREVIEW: MEET SAGE, THE NEW VAMPIRE IN TOWN!
While Elena is spending some quality time with Matt — which might end up being more serious than we think — Damon and Stefan are trying to find a connection between the murders of 1912 and now. But while they're digging up the past, Damon attempts to remind Stefan that he can enjoy being a vampire, while still controlling his so-called humanity. Damon tricks a now blood-free Stefan into taking a bite of an innocent civilian — but instead of taking a few swigs and giving up, Stefan won't stop. That's when Damon interferes and cuts him off, but sadly, leaves just enough time for Elena to witness Stefan's act of injustice. Guess their romance won't be rekindled anytime soon.
Later that evening, Stefan flips out on Damon for pressuring him into drinking human blood, but soon realizes that his big brother is only trying to help him live a moral life as a vampire.
(Cue flashback of old vampire friend Sage (Cassidy Freeman), whom we learn is the one who initially taught Damon his womanizer ways back in the day).
And just when you think all the drama has come to an end, Alaric returns home from jail and gets a visit from Meredith who shares a heartbreaking and shocking confession. Alaric is, in fact, Mystic Falls' serial killer, but he just doesn't know it because his special "I can't die" ring has saved him so many times that it's actually making him crazy. Yeah... OMG!
Can you believe what happened last night and what do you think about Alaric's scary secret?