NEWS
Vancouver Riot Kissing Couple Identified By Family: "That's Our Boy!"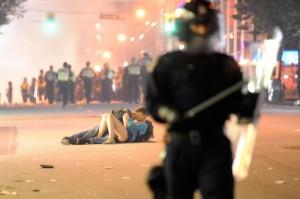 Article continues below advertisement
Scott has been living and working in Vancouver for six months, but is from Australia. The girl int he photo is reportedly Alex Thomas, Scott's recent girlfriend, who is a Canadian.
"I knew it was him because he doesn't have a lot of clothes with him and he always puts on the same thing," Megan said. "I'd have to have my house flooded to get on the news, but he just has to kiss a beautiful girl."
Police were patrolling the streets after a riot broke out when the Vancouver Canucks lost in Game Seven of the Stanley Cup Finals. And apparently, that seemed like the best time to make-out with Alex in the street!
"He's over there having the time of his life, quite clearly," Scott's mother said. "But he told me recently that he was coming back with the best souvenir ever in Alex."
While Scott is a stand-up comic, his mother doesn't think he staged the kiss.
"It certainly gives him more material for his routine," she said. "But I don't think he would have planned it. He doesn't think like that. He just reacts and the whole world goes on around him. Teachers always said he didn't engage with what's going on."
Scott reportedly explained the photo to his friends on his Facebook page writing, "Classic! This was shortly after the riot police run over the top of us and naturally Alex needed some comforting."