NEWS
Vanessa Carlton Leads The College Life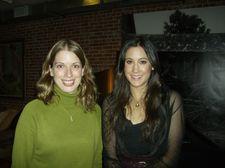 Vanessa Carlton has studied on-and-off-again at Columbia University since 2005.
With a hot pop career, why is furthering her education important?
"It's endlessly important on so many levels," the 27-year-old singer/songwriter tells me "Forget your artwork. Obviously it's going to help endlessly in terms of lyrics and things, but just to become a fully-formed human being. We all have an obligation to soak up as much as we can of this world, and education makes you more powerful and a better interpreter of life. If you are an actor or a musician, you'd better continue your studies. I'm always more captivated and interested in people who have that kind of curiosity within them and they satiate it through education."
Article continues below advertisement
What does she hope to major in – music or philosophy?
"I'd probably be an English major," she says. "I'd rather expand my horizons. I love English literature, and that compliments the kind of music training that I have. I still do push myself musically. I'm classically trained, so I'm always trying to start new pieces. I'd like to be more on the writing side of things."