NEWS
Vanessa Hudgens Files Lawsuit Regarding Nude Photos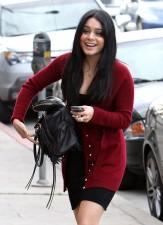 As Vanessa Hudgens fought off scandal with the outbreak of personal nude photographs leaked onto the internet, the recently turned 21-year-old has taken matters into the Federal Court's hands according to E! Online.
In a lawsuit against moejackson.com, Vanessa makes it clear that the once private pictures were posted without her approval.
"The photos were obtained by unknown methods and posted on the Internet by an unknown person without Hudgens' knowledge or consent," the lawsuit states.
Article continues below advertisement
After requesting that the racy photos be removed immediately from moejackson.com, Vanessa is also requesting damages according to E! Online.
And just to be safe, the High School Musical starlet registered her nude photos with the U.S. Copyright Office, E! Online reports.
Vanessa's new movie, Sucker Punch, will be released in 2011.