NEWS
Vanessa Hudgens Hides as She Heads Out in Hollywood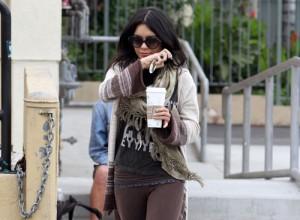 Vanessa Hudgens tried to lay low as she picked up coffee with a friend at her local Starbucks in West Hollywood today. She kept her face hidden and herself under wraps and she switched up her wardrobe for a chilly California day. She was recently seen supporting boyfriend Zac Efron at his premiere for Charlie St. Cloud. The Charlie premiere might've been a little harder than most for Baby V to attend.
Article continues below advertisement
That's because Charlie St. Cloud, set to premiere this weekend, beat Vanessa's movie Beastly (now set to premiere in March 2011) to the box office. Zac said it was hard to break the news to Vanessa, but ultimately they were grateful not to have movies coming out the same weekend.