NEWS
Vanessa Hudgens is in Love With Angelina Jolie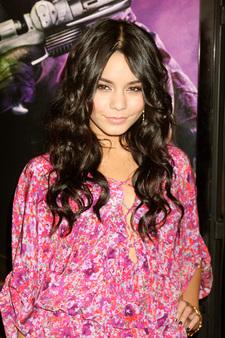 Brad Pitt better watch out – a hot celebrity has a thing for his baby mama!
"I'm in love with Angelina Jolie," Vanessa Hudgens tells the May issue of Self. "Everything she does, I adore."
Celeb crushes aside, Vanessa is moving on from her dancing and singing days in High School Musical, and is looking forward to her next movie challenges.
"I'd like to do an action film where I could kick someone's ass," she reveals. " I want to be strong and empowered. I want to shock everybody."
Article continues below advertisement
She even has a secret weapon to help her take on the role of a butt-kickin' tough girl – her "really strong legs"!
"I inherited them from my dad, who has tree stumps for legs, basically. I've got big calves that look good. When I wear heels, it looks like I've worked out my legs a lot, which is why I love them," she says, adding, "I also have a big, big big toe. I call it my goat toe. I can climb anything."