NEWS
Vanessa Minnillo & Nick Lachey New Year's Eve Wedding: No Way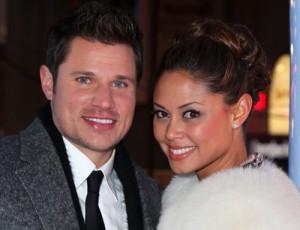 A New Year's Eve wedding for Vanessa Minnillo and Nick Lachey? Don't believe it. Rumors that the couple would be heading down the aisle this New Year's Eve were debunked by Vanessa herself at the exclusive launch preview of black 15in1 hair product at Andy Lecompte Salon in L.A. this week. So why did Nick suggest the couple would marry on the holiday? And when are they planning to get married?
Nick told Racheal Ray on her talk show that he and Vanessa are planning a romantic New Year's trip together, which sparked rumors that the duo would tie the knot then.
Article continues below advertisement
"We're going to be in Tuscany for New Year's. Who knows, we may be married in Tuscany, too," Nick quipped on the Rachael Ray Show.
OK! NEWS: NICK LACHEY WISHES JESSICA SIMPSON THE VERY BEST
But Vanessa explained to reporters at the black 15in1 event that Nick was just making a joke and being sarcastic.
"I think Rachael (Ray) got married in Italy, so maybe that's why the media spun it," Vanessa said.
She continued to explain that right now she feels content with being engaged and enjoying her future husband's company.
"I feel irresponsible for not having a date, but someone made a great point, when you're dating everyone is always asking when you're getting engaged," Vanessa said. "When you're engaged everyone is always asking when you're getting married. When you get married they start asking when you're going to get pregnant. Instead of keeping up with the Jones', we're just enjoying it."