NEWS
Vanessa Williams: What I Ate Today (in Greece)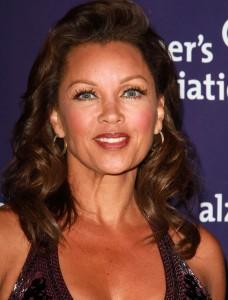 Desperate Housewives star and mom of four Vanessa Williams is an expert at eating healthy.
To celebrate the launch of Samsung's 4-door LCD fridge with apps, the actress, 48, shares her daily meal plan, workout regimen, diet motto and tips.
BREAKFAST
"I'm in Athens, Greece at the moment so food for summer has been light," she tells me. "To start my day, I had a cup of herbal tea followed by a cup of mango juice. I eat scrambled eggs and yogurt with fruit when there's time for me to sit down."
MORE ON:
Red Carpet Confidential
Article continues below advertisement
LUNCH
"Lunch was prosciutto wrapped around Greek cheese and small cherry tomatoes."
DINNER
"I had a traditional Greek dinner with saganaki - hot cheese - salad, fries, grilled chicken & beef, eggplant and yogurt dressing."
EXERCISE
"Weight training, yoga, Tae Bo, biking and salsa dancing all help mix up my routine."
SHE MIXES IT UP
"I was In Japan recently and ate all Japanese while there. So - when in Rome. I love variety in food, my workout, and life in general."
WHAT SCALE?!
"I don't weigh myself and leave my clothing to be the judge."
DIET MOTTO
"My motto is to live and be prepared to work hard. It works with diet, exercise and our chosen professions."
Here's my pic with Vanessa: