NEWS
Verne Troyer Wants To Be A Leading Man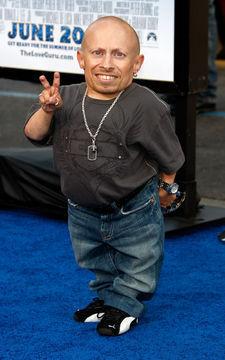 Just before Verne Troyer's sex tape went public, I caught up with him during The Love Guru junket held at NYC's Waldorf-Astoria hotel.
The 39-year-old actor gets around by scooter, and parks right beside me. Despite his mini-me stature, he's wearing a men's watch, and has a heart tattoo on his right thumb. He's friendly yet guarded, and personal questions are off limits. Though we chuckled at the time – what personal questions?! – it all becomes clear with the release of the sex tape.
Article continues below advertisement
In this interview, Verne covers all the bases.
Any plans for another Austin Powers movie?
I don't know for sure, but I know Mike's mentioned something around the ways. He thinks about it. But if that happens, I would love to do it again. I was a stuntman for eight years, and everything just blew up from that first role in Austin Powers when he gave me that chance.
When it is OK to make jokes about small people?
In my opinion, using it in entertainment in a film, in a movie, it's fine. It's comedy. It's there to make people laugh. If some of that stuff would've been in the real world, depending on the tone of it, I may get a little offended, but overall, if it offended anybody, just get over it.
How do you feel about being a role model?
If I'm a role model to anybody, wow, that's something. It makes me speechless. I'm just me doing what I want to do and what I put my mind to. I've grown up as a short person, and I've had to adapt in the oversize world. It's just me living my life. If somebody gets inspired by that, thank you , but I'm just trying to fulfill my life.
Article continues below advertisement
What's the most surreal aspect of fame?
Just realizing how many people think they know you. I try to put on a hat and sunglasses, but it doesn't help. Immediately people think you're him, or they question you, but most of them are like 'you're him.'
Were your parents scared about you going to Hollywood?
I left home when I was 21, and I went down to Texas. From Texas, that's when I got started doing stuntwork. They didn't really have a choice.
How do they feel now?
They're so happy for me and the success I've had. They couldn't be more proud.
Have you reached your goal?
It is very awesome where I'm at, but I can do a lot of other things rather than typecasting me as a leprechaun or an elf for Christmas. I play a hockey coach, and in this case, Mike thought a little bit out of the box and gave me that opportunity.
I'd like a leading man role. I want to stay away from typecasting, and have somebody allow me to show them I can do different things.
How do you spend your free time?
I'm a homebody. I play a lot of video games, watch a lot of sports on TV. When you're in this business, you travel a lot and don't get to spend much time at home. When I get that chance, I take advantage of it.