NEWS
Veteran Actor Peter Graves Passes Away at 83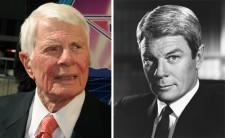 Peter Graves, the veteran actor who left a lasting impression on fans with his roles on TVs Mission: Impossible and movies like Airplane!, passed away Sunday at the age of 83, the New York Times reports.
His business manager Fred Barman told the NYT that he died of a heart attack at his home in Pacific Palisades, Calif.
Although he played it cool in Mission Impossible, it was that unerring smooth nature that he made fun of in movies like Airplane! and even in a Geico car commercial.
Article continues below advertisement
Peter was born Peter Aurness in Minneapolis, and served in the Army Air Forces from 1944-45 before studying drama at the University of Minnesota. He then followed his older brother to Hollywood. His first movie was Rogue River in 1950.
He then changed his last name so he wouldn't be confused with his brother, and moved on to films like Stalag 17, Night of the Hunter, Court-Martial of Billy Mitchell and Long Gray Line, among others. He also starred in TV show Fury from 1955-59.
One of his most memorable roles as Jim Phelps on the Mission: Impossible series on TV lasted from 1967-73, and then again from 1988-90.
He is survived by his wife, Joan Graves, and three daughters, Amanda Lee Graves, Claudia King Graves and Kelly Jean Graves.