NEWS
Victoria Beckham Defends Hubby's High-Pitched Voice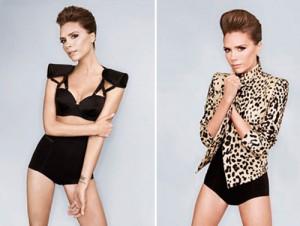 In the middle of the media firestorm that is surrounding her marriage, Victoria Beckham is as strong, independent and business-minded as ever. The doting mom and proud wife stands united with husband David Beckham during the infidelity rumors that have run rampant. In the November issue of Marie Clarie, Posh talks about the difference of living in L.A. and the UK and defends her hubby's high-pitched voice!
Article continues below advertisement
Posh and Becks have developed a balance when it comes to living stateside on the West Coast and in England. But life is different for the powerhouse couple across the pond.
OK! GALLERY: VICTORIA BECKHAM TAKES FLIGHT AMIDST AFFAIR ALLEGATIONS
"In England, David and I are big fish in a small pond. But in L.A., we are tiny, tiny, tiny fish in a big pond. I mean, let's be honest about it. When you've got Tom Cruise and Katie Holmes living down the street as your neighbors, who gives a shit about Victoria and David?" she explains to Marie Claire. "Bottom line: I can relax in L.A. I think I'm the only person in that town who doesn't want to act," she says. "I was an OK singer. I was an OK dancer. But acting? Never could do it."
As far as her husband's voice, which has been criticized for lacking masculinity, the 36-year-old former Spice Girl was quick to defend her leading man.
"I don't really notice that he's got a high-pitched voice. I just think he's so goddamn perfect that people have to find something wrong with him. We were about to go out somewhere the other day, and he was sending an email. He was sitting at the end of the bed, and he had no clothes on whatsoever," she says. "I was getting out of the shower, and I just stood there looking at him. He was all tan. Has all those tattoos, which I love. Hadn't done his hair. He just naturally looks good all the time."
"He never looks like s--t in the morning. Never. So he's sitting there sending his e-mails, all ripped," Victoria continues. "Not an ounce of fat on him. And I thought, you done good, girl. I sure wasn't thinking of his high-pitched voice."
Catch David's voice in the clip below. Is it a little high-pitched?