NEWS
Victoria Beckham Defends Skinny Models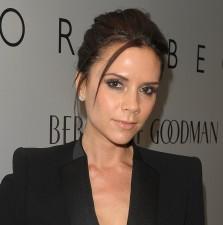 Victoria Beckham has a message for the weight haters: Love women of all shapes and sizes, including slender runway models.
"Most of these girls are naturally thin," said Victoria, during her stint co-hosting The View yesterday. "And I don't think we should be discriminating against someone because they are too thin or too curvy or too large or whatever it is."
Article continues below advertisement
Victoria, formerly known as Posh Spice, has taken heat for her own slight frame, but she's working with the Council of Fashion Designers of America to try and mix up the fashion world.
"The CFDA have reached out to designers, stylists and casting directors not to work with underage models, girls that are too thin — and to be more ethnically aware," she said.
OK! HOT GALLERY: VICTORIA BECKHAM BRINGS HER BOYS TO THE BEACH
"And I think designers are listening. I had a casting last week and had some terribly thin girls come in and it wouldn't have worked," she said.
"The campaign the CFDA has launched is called Health Is Beauty, and they are definitely encouraging designers to work with healthier-sized models," revealed Posh.
After Whoopi Goldberg asked about assessing so many colorful characters, Victoria opened up about guest-judging the American Idol auditions.
Article continues below advertisement
"They are gonna find out they are pretty useless at some point," she said. "They don't need me to tell them that. I know how hard it is to stand there and sing in front of people.
"It is really humiliating to be honest, but I really believe in positive energy."
And what does Victoria think of her fellow Brit Simon Cowell? "He knows what he is talking about and I've known Simon for a long time," she said.
"So I can say that he is incredibly respected, he is very good at what he does and he is a complete pain in the butt."