NEWS
Victoria Beckham: Designer Spice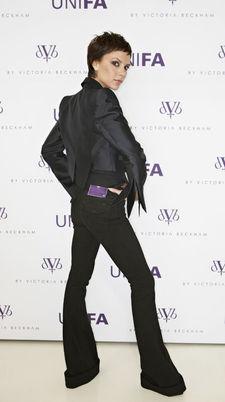 Make no mistake--Victoria Beckham does her own designing--well, sort of.
"Do I draw? No.Then again, nor do lots of designers," she says in an interview with Times Online. "But I put it all on myself and walk around in it, and I know what feels comfortable. I know how a dress should sit. I've worn so many in the past and when I see the photographs I think, 'crikey, my boobs are up 'round my neck again' because the corsets are too short and not cut high enough."
Article continues below advertisement
CLICK HERE for OK!'s Ultimate Posh & Becks Gallery!
Beckham, 34, is no stranger to fashion. She already has several perfumes and then there's dVb, her denim line. But now she's launched a new collection of dresses, ten 50's inspired sillouettes with her signature style-- wasp-waists and cut at the knee in a pencil-skirt.
The former Spice Girl debuted the line at New York Fashion Week last fall but says the official launch got her in a bit of a frenzy.
"I was so nervous that I for days before I drank loads and loads of water. God, I'm such a square," she says. For a girl known throughout Britain as Posh, it seems right that all roads should lead back to fashion for Beckham.
"I was never that good a singer," she says, "but I think I am good at fashion. Even when I was at school, where I was bullied--sometimes physically, sometimes verbally--I was always customizing my uniform."
Article continues below advertisement
She may have been bullied in school, but these days, Victoria doesn't let silly rumors get her down. Since she and hubby David Beckham and their three boys moved to Beverly Hills, the three have quickly become a tight-knit group, hob-knobbing with pals Tom Cruise and Katie Holmes who have no doubt taught them how to avoid Hollywood's pitfalls.
CLICK HERE for OK!'s Ultimate Posh & Becks Gallery!
"I'm not interested in gossip," she says. "I don't read the stuff that's written about us. I wake up every morning and I think I'm so blessed. Some of the people that I'm friends with in America--you know, Tom and Katie--they get it too and we laugh about all these stupid things."
She continues, "I don't really care what people think. I never made friends easily. For years, when I was in the Spice Girls, those were my four best friends and we stuck up for each other. Now I've got David. Nothing has ever come particularly naturally to me. It's made me a hard worker and very diciplined. I get that from my dad."