NEWS
Victoria Beckham Tweets Toilet Paper Dress Pic From Her Star-Studded Baby Shower!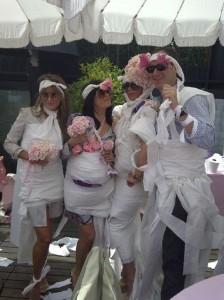 Victoria Beckham celebrated the upcoming birth of her first baby girl with hubby David Beckham this weekend at a pinked-out, star-studded baby shower in L.A! The mom to three adorable sons and her soccer heartthrob hubby will add a daughter to their brood very soon, and Posh of course had to celebrate in style!
The fashionista always seems to know what to wear, but was nervous for her special day.
Article continues below advertisement
"I have been told to wear something waterproof for my baby shower!!!!I'm now very nervous!!!!x vb" she Tweeted, questioning if "waterproof" was "chic or stylish."
But the former Spice Girl pulled it together as always, wearing a purple v-neck dress to the soiree.
She even incorporated a wardrobe change, donning a toilet paper dress for the occasion, with fellow pregnant pal, Selma Blair!
"So much fun!!!!!! X vb" she Tweeted along with the picture below.
We thought the toilet paper dress game was for wedding showers only, but of course Victoria pushed the fashion envelope on her special day.
She also Tweeted, "Such a lovely day!!!thank u so much @EvaLongoria and @KenPaves for being such wonderful friends. Baby showers are so much fun!!!!!!!x vb" Victoria Tweeted this weekend about the shower, followed by, "Thank u for such kind wishes and messages.I have had a lovely day today with friends and family. Can't wait for the game tonight!!! X vb"