NEWS
Victoria Jackson: 'SNL' Alum is an Active Tea Partier & Calls Obama a Communist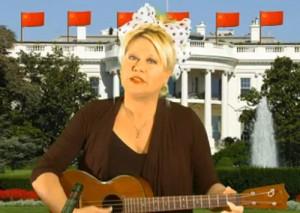 Victoria Jackson may be a former comedienne, but her latest jaunt in the spotlight isn't a joke! The Saturday Night Live alum, who reigned in the era of Dana Carvey and Dennis Miller in the '80s and early '90s, is now a passionate member of the Tea Party and prides herself on being a Hollywood conservative. Victoria has even taken her political views to the White House, calling President Barack Obama a communist.
Article continues below advertisement
At the Conservative Political Action Conference (CPAC), Victoria was selling her CD Use Me, which includes the song she wrote about President Obama titled "There's a Communist Living in the White House."
OK! NEWS: PRESIDENT OBAMA NOT INVITED TO ROYAL WEDDING
In the video she strums on a guitar and wears a huge polka dot bow, but it seems like her words in the skit are not a joke.
"In 2008, I heard someone was running for President who was left of Hillary. And I said, "What's left of Hillary?" That would be Communist! So I did research, and I was horrified," Victoria responded, via the Stir, when asked why she joined the Tea Party.
"Obama is a communist. I only woke up because we elected a communist. How can I hold it inside when I see people going off a cliff? I have to say, 'You are going off a cliff,' " she added.
Catch her anti-Obama ditty below.
Victoria Jackson at CPAC.
Victoria Jackson on The O'Reilly Factor.
Check out Victoria opposite SNL Legend Dana Carvey in the popular Toonces the Cat skit on SNL.
She was also revered for her "Weekend Update" skits opposite Dennis Miller.