NEWS
VIDEO: Adam Lambert's 250-Pound "Ugly Duckling" Past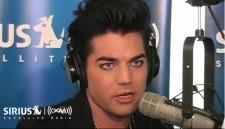 Adam Lambert's over-the-top performance at the AMAs may make a little more sense now. Adam told Morning Jolt's Larry Flick on Sirius radio that he used to be an "ugly duckling" in school. Guess he's now making up for lost time!
Adam explained he is only now beginning to love what he sees in the mirror.
"I suffered from a little bit of an ugly duckling complex early in my twenties and definitely in my teens," he explained. "When I was in high school I was 250 pounds and that creates some stuff...some body image stuff, some confidence issues and I got a lot of my confidence from the validation I got as a performer."
Article continues below advertisement