NEWS
VIDEO: Aziz Ansari Begs Kristen Bell for Help with Explosive Device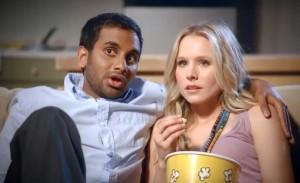 As Hollywood revs up for the 2010 MTV Movie Awards, host Aziz Ansari is already showing he's got the comedic chops to be at the helm of such a big undertaking. In the latest promo clip from MTV, Aziz asks Kristen Bell for a little help with something he can't handle on his own.
OK! VIDEO: WHO IS AZIZ ANSARI?
By use of this code snippet, I agree to the Brightcove Publisher T and C
found at https://accounts.brightcove.com/en/terms-and-conditions/.
Article continues below advertisement
-->
This script tag will cause the Brightcove Players defined above it to be created as soon
as the line is read by the browser. If you wish to have the player instantiated only after
the rest of the HTML is processed and the page load is complete, remove the line.
-->