NEWS
Video: Bar Refaeli Talks Love, Life and Swimsuit Shopping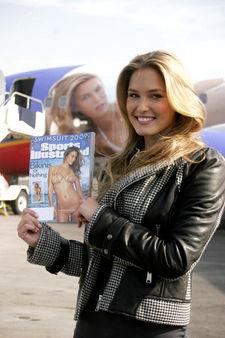 Bar Refaeli struts out of a Southwest Airlines jet bearing her own image during the unveiling of SI One held at NYC's LaGuardia Airport.
It's just another day in the spectacular life of the Israeli supermodel, 23, who is dating Leonardo DiCaprio, but she isn't blasé about the fact that her own image adorns a jet. "Take one for me!" she gleefully begs an onlooker, as she poses in front of the aircraft with flight crew.
Article continues below advertisement
For Bar, being on the cover of the Sports Illustrated Swimsuit issue is a dream come true. "How much did I want it? There isn't anything I wanted more than this," she says. "It was my dream. Now that I finally got it, it's a once-in-your-life thing. I take it all in and enjoy the moment while I've got it. It changes your life in an instant."
Watch OK!'s exclusive video! You'll feel like you're there.
What's Bar's secret to staying in such great shape?
"I eat and … I'm happy," she says. "I eat everything."
But how did she get ready for this shoot?
"I eat more," she laughs. "They like us curvy. It's the best job to do – Sports Illustrated – because they say 'eat as many cookies as you want, as many burgers, whatever you want.'"
She adds, "Just in general, I exercise because I believe in a healthy body with a healthy soul."
Article continues below advertisement
Bar, who works out with a trainer, shares her routine. "A lot of crunches and rubber bands around my ankles, a lot of cardio and so I work out, but not very often unfortunately."
Let's say she needs to get trim quickly?
"I'd probably like, four weeks, do cardio every day, running. Watch what I eat, but not starve myself."
Plus, cycling helps. "I bike all the time in New York City. I bike for hours. I can bike for eight hours a day and just go everywhere with bikes."
With swimsuit season coming up, what advice would she give for buying the perfect suit?
"Don't do it after you eat," she tells me. "I like the most simple ones – the ones that tie and plain colors."
Although Bar has found love with Leonardo DiCaprio, he wasn't the heartthrob she had in mind while growing up in Israel.
"I had a huge crush on the Hanson brothers. Yeah, I know. Weird."
Who gets her going these days?
Article continues below advertisement
"Now I'm too old to have crushes," she says. "Now it's like I have crushes on Barack Obama because they're men who are intelligent, and the charm."
For now, her sights are focused on Leo. She describes the most important quality in a man as "a friend," and describes her perfect date night as "a nice dinner and being home." To chill out, Bar is easy to please. "I like to be home in bed and watch TV. That's what I love the most."
Would she like to marry and have kids? "Yeah, of course, one day."
She has plenty of time, and she seems to enjoy relish step of the way.
For more on Bar Refaeli, pick up the OK! on newsstands now. Jen and Angelina/"First Meeting Face To Face" is the cover line.
Video production by Chris Morran.