NEWS
VIDEO: Behind the Scenes of New Moon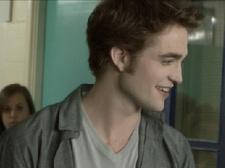 So your plan to head up to Vancouver and sneak on the set of New Moon didn't exactly pan out. But Twilight fans are in luck: There's a new video making the rounds, courtesy of KyleandJackieO.com that lets viewers almost feel like they were there to witness filming.
While the three-minute video is just a tease of things to come from the full movie, it's still sure to thrill any Twilight afficionado.
Article continues below advertisement
Join Taylor Lautner and Kristen Stewart as they shiver in the rain before a particularly soggy take, catch Taylor learning about motorcycles and bounding around set in pursuit of Bella, and get just a glimpse of that gorgeous Robert Pattinson smile!
Hey, it's the closest Twi-hards are going to get until the movie debuts in November!
WATCH BELOW:
<embed src="http://c.brightcove.com/services/viewer/federated_f8/1417325500" bgcolor="#FFFFFF" flashVars="videoId=26016059001&useOverlayMenu=false&playerId=1417325500&viewerSecureGatewayURL=https://console.brightcove.com/services/amfgateway&servicesURL=http://services.brightcove.com/services&cdnURL=http://admin.brightcove.com&domain=embed&autoStart=false&" base="http://admin.brightcove.com" name="flashObj" width="400" height="339" seamlesstabbing="false" type="application/x-shockwave-flash" swLiveConnect="true" pluginspage="http://www.macromedia.com/shockwave/download/index.cgi?P1_Prod_Version=ShockwaveFlash"></embed>