NEWS
VIDEO: Brad Pitt Takes Ellen DeGeneres on a Personal Tour of the Ninth Ward in New Orleans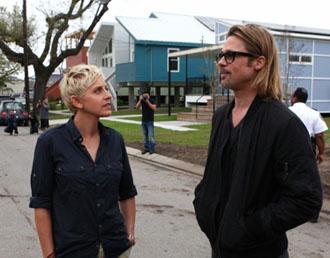 Brad Pitt met up with Ellen DeGeneres in New Orleans, La., to discuss his inspirational organization, Make It Right, which builds affordable and sustainable homes in the Lower Ninth Ward of the city.
The actor, who has been working to refurbish and rebuild the area since Hurricane Katrina devastated New Orleans in 2005, talked to Ellen about the project's progress and the good that's coming out of it.
Article continues below advertisement
Brad and his team have built 75 homes so far and are constructing more and more each year.
OK! GALLERY: ANGELINA JOLIE TAKES PAX, ZAHARA & VIVIENNE FOR A STROLL IN NEW ORLEANS
"I fell in love with New Orleans," Brad tells Ellen in an interview airing on her show today. "The place, the people, the verve, the music...it's in the air. It's something you can't describe on camera."
And he's done a lot to protect it and restore the Ninth Ward to its former glory. "If another Katrina were to hit, these houses would withstand that kind of force," Brad guarantees, adding that it only takes his team about three months to build each one nowadays.
But Brad doesn't have a big head about everything he's doing for the community and the residents, which, might we add, he knows by name.
"I'm getting far too much credit," Brad explains. "This is a lot of very smart people coming in and attacking the situation. It took the families determined to come back and their resilience, and they're defining what this thing was going to be. I get far too much credit for bringing some really smart people together."